Being a
cosmetic addict
beauty lover I acquire an unhealthy amount of cosmetics on a weekly (sometimes daily, let's be honest) basis. While I endeavour to rotate my products and use them all evenly, there are some that are constantly at the top of the pile. Simple because they are fabulous. More fabulous than the rest.
(L-R NARS Bronzer in Laguna, Bourjois Healthy Mix Foundation #52, L'Oreal Youth Code Lumiere Serum)
This month I finally gave into Bourjois Healthy Fix Foundation and might I say, WOW! It has bumped NARS Sheer Glow off my counter. Yes, it is that good. The formula + smell + lasting power is hard to compete with. Absolutely adoring it. NARS might make a come back over the summer months, but to be honest I have had a really difficult time finding a winter shade from the Sheer Glow range. And Healthy Mix Foundation is giving me no reason to continue searching.
After seeing the glowing reviews this product received on
PRIMPED
and all over the beauty blogosphere, I could not resist giving
L'Oreal Youth Code Lumiere Serum
a go. I have been using it daily for around 3 weeks and have been really pleased with the results. It also smells delectable. Win, win!
Old faithful, even in the depths of winter when I need a bit of contouring to bring my face back to life. My favourite bronzer of all time (isn't it everyone's?!).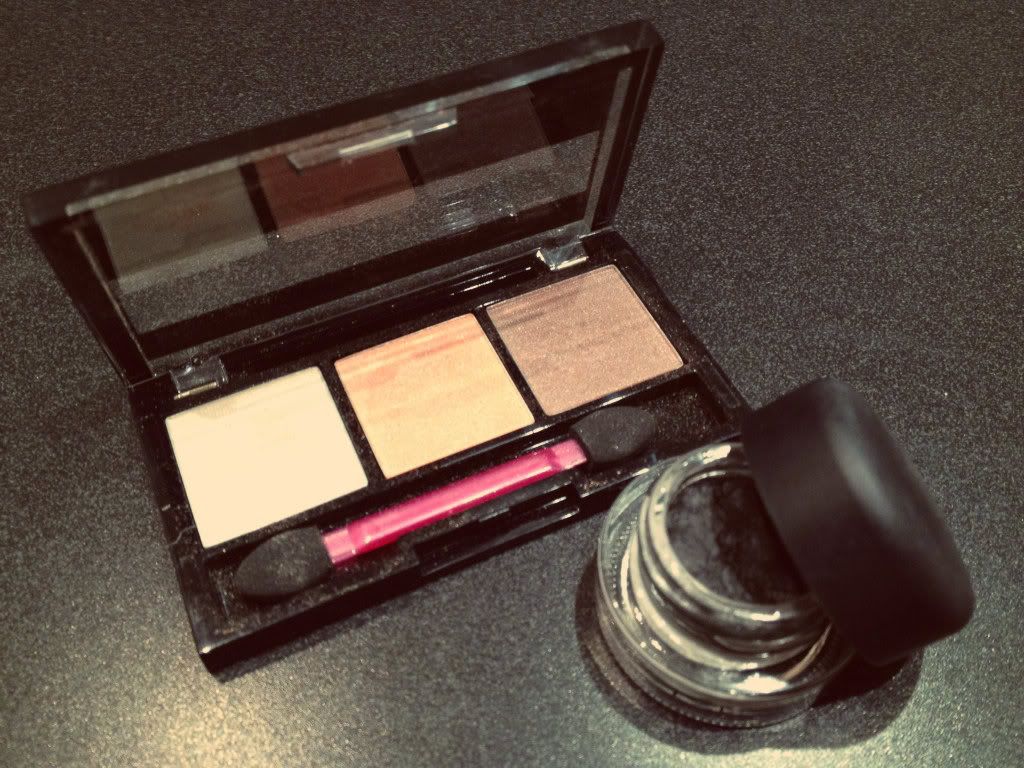 (L-R Australis Intensifeye Eyeshadow Trio in Bees Knees, MAC Fluidline in Blacktrack)
With lots of deep reds and berry lipsticks dominating this winter, I like to go for a very nude eye with a slick of eyeliner. The Australis Intensifeye Eyeshadow Trio in Bees Knees is the perfect palette for this look and I have been wearing it constantly.
Perfect for aforementioned slick of eyeliner, MAC Fluidline in Blacktrack, is the bees knees (zing!).
(Clockwise from Left) Benefit Brows-A Go-Go Kit, Bourjois Blush in Brun Cuivre 03 and

G

orgeous Creme Blush in Peaches and Cream.
I had found peach creme blushes to be quite elusive until I stumbled across this Gorgeous Creme Blush in Peaches & Cream. Gives the perfect warm apricot glow and the consistency of this product is absolutely delightful.
I am a double-dipper when it comes to blush. I like to layer powder over creme blush for a long-wearing effect. The blush I have been wearing over Peaches & Cream is Bourjois Blush in Brun Cuivre 03.
Could not live without Benefit's Brows-A Go-Go kit. I have only recently been using shadows to get the perfect brow shape. I have very fair, blonde brows so a pencil just was not doing them justice! While using shadows takes longer in the morning, the result is perfectly groomed brows.
(L-R) Revlon Lipstick in Fuschia Fever, Australis Colour Inject Mineral Lip Gloss in Lambada
As soon as the weather gets cooler I look forward to busting out my winter warmer (lip) shades. Revlon Fuschia Fever is the perfect berry-toned lipstick. The forumla is tops too - long-wearing, non-drying and just plain fabulous.
I don't leave the house without my Australis Colour Inject Mineral Lip Gloss in Lambada. The perfect nude/pink gloss that is light and nourishing. It also tastes fantastic so if perfect for my 3:30 snack craving.
Those are my So Hot Right Now products. I look forward to making this post a monthly installment as I churn through my collection!